Hay Literary Festival is back in-person for its 35th spring edition, bringing writers and readers together in Hay-on-Wye for inspiring conversations, debates, workshops and performances, May 26–June 5, 2022.
Launching the best new fiction and non-fiction, while offering insights and debate around some of the biggest issues of our times in a program of conversations featuring more than 600 award-winning writers, policy makers, pioneers, innovators and performers. Plus, a vibrant line-up of music, comedy and performance for all ages keeps the party going until late.
Can't make it to Wales? You can join the action wherever you are thanks to the festival's new digital pass. Over 11 days, 75 select events will be live-streamed from the festival's green fields to the world. Here are a few Ecosia highlights to mark in your diary.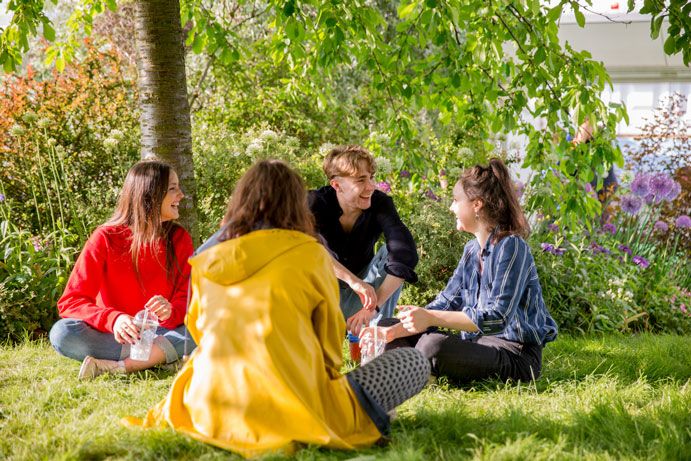 Saturday, May 28, 2.30pm BST — Mariana Mazzucato talks Mission Economy
Mazzucato calls for new levels of boldness and experimentation to be applied to the biggest social and political issues of our time: inequality, disease, and climate change. She argues we need to rethink the capacities and role of government within the economy and society, launching new "missions" that require and incentivise innovation in all sectors to achieve a common goal.
Her "mission-oriented" approach means fundamentally changing the relationship between public and private, making them more genuinely purpose-driven. With its ideas already being adopted around the world — including by the European Commission and Scottish government — Mission Economy offers a way out of our impasse to a more inclusive and sustainable future. She talks to Financial Times journalist Gillian Tett.
Thursday, June 2, 10.00am BST — Karen Armstrong talks Sacred Nature
Armstrong argues that if we want to avert environmental catastrophe, it is not enough to change our behavior: we need to learn to think and feel differently about the natural world, to rekindle our spiritual bond with nature. For most of human history, nature was believed to be sacred, and our God or Gods are present everywhere in the natural world. When the West began to separate God and nature, it set in motion the destruction of the natural world. Taking themes that have been central to the world's religious traditions — from gratitude and compassion to sacrifice and non-violence — she offers practical steps to help us develop a new mindset to reconnect with nature and renew our sense of the sacred.
Friday, June 3, 4.00pm BST — George Monbiot talks Regenesis
What if there were a way to stop climate change and end global hunger at the same time? Monbiot's new book is an exhilarating journey into a new possible future for food, people and the planet. Drawing on the rapidly advancing science of soil ecology, he shows how the hidden biological universe beneath our feet could transform the food we eat and how we grow it. He shares his profoundly hopeful, appetizing and exciting vision of food: of revolutionary cultivation and cuisine that could nourish us all and restore our world of wonders. George Monbiot is a renowned environmental activist, a contributor to the Guardian and author of Out of the Wreckage: A New Politics in the Age of Crisis. In conversation with the scientist, author and broadcaster Adam Rutherford.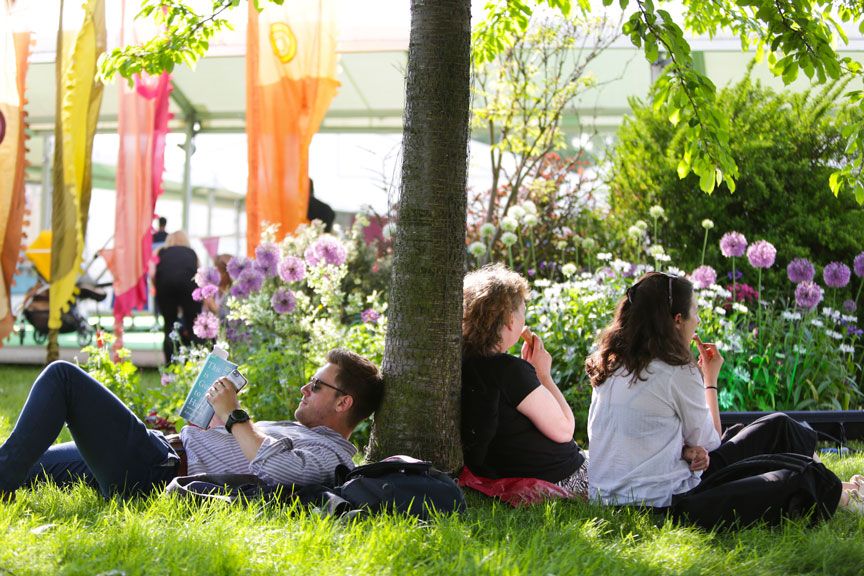 Saturday, June 4, 11.30am BST — Elif Shafak talks The Island of Missing Trees
The Turkish-British novelist's latest work is a rich and magical tale of belonging and identity, love and trauma, memory and amnesia, human-induced destruction of nature and, ultimately, renewal. She explains the main themes of the novel and her creative process in conversation with writer, broadcaster and contributor to BBC Channel 4 and The Sunday Times Kirsty Lang.
Sunday, June 5, 11.30am BST — Charles Clover talks Rewilding the Sea
In his follow-up to The End of the Line: How Overfishing is Changing the World, the environmental campaigner chronicles how determined individuals are proving that the crisis in our oceans can be reversed. We need to step aside and let nature repair the damage: whether it is the overfishing of bluefin tuna in the Atlantic or the destruction of coral gardens by dredgers in Lyme Bay. Trawling and dredging create more CO2 than the aviation industry and damage vast areas of the continental shelves, stopping them soaking up carbon. We need to fish in different ways, where we fish at all. Charles Clover is Executive director and co-founder of the Blue Marine Foundation.