We're launching our new Beyond Profit series: a selection of interviews to highlight the work of purpose-led brands who are exploring better ways to do business. Like Ecosia, these companies put people and planet before profit, and exist as vehicles to further social change. Today, we're excited to kick off this series with the #1 anti-food waste company, Too Good to Go.
---
1.6 billion tons. That's 114 million school buses. More than 228 million African elephants. Approximately 9 Mt. Everests. It's also roughly the amount of food produced for human consumption that gets lost or wasted on an annual basis. And those 9 Mt. Everest's worth of food waste? That's responsible for roughly 8% of our global greenhouse gas emissions each year. In fact, if food waste were a country, then it would be the third highest emitter of GHG emissions.
At Ecosia, we plant trees because they fight the climate crisis by removing CO2 at scale. Trees help mitigate climate change, restart water cycles, stop desertification, and restore ecosystems.
But climate change is a problem that requires many complimentary solutions. By connecting stores with leftovers to consumers who are looking for a discounted meal, anti-food waste app Too Good to Go has saved over 70 million meals to date, and prevented over 193,000 tons of CO2 from entering the atmosphere. We sat down with Lucie Basch, Co-founder at Too Good to Go, to learn a little more about why they do it.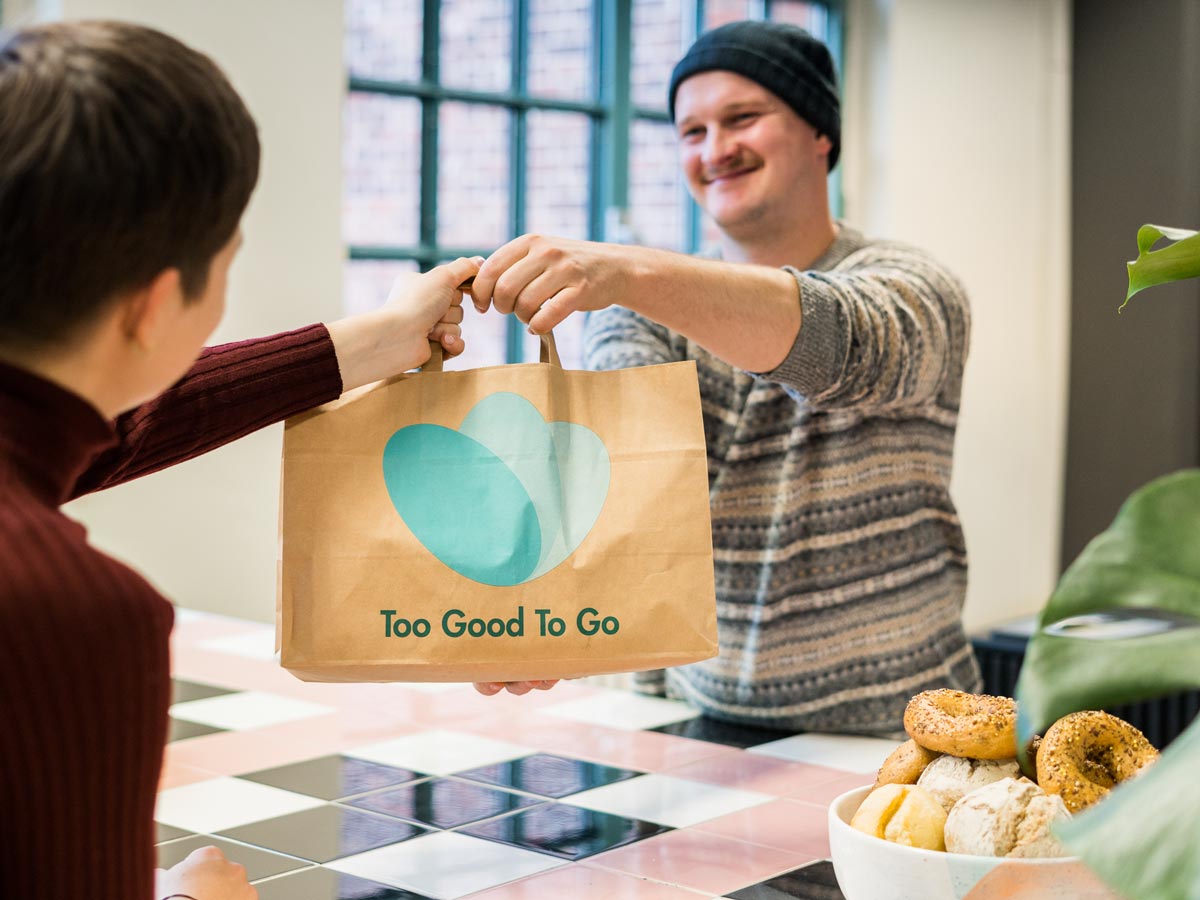 We all agree that global warming is one of the major crises of our time, with a complex array of contributing factors. Why did Too Good to Go decide to hone in on tackling food waste?
At Too Good To Go we truly believe that fighting food waste is one of the most impactful actions we as a society can take against climate change. With this in mind, we wanted to focus our efforts on inspiring and empowering everyone to take action against food waste and climate change in an easy, fun and accessible way. By connecting app users to surplus food at restaurants, eateries, cafes and grocery stores at the end of each business day for a third of the price, Too Good To Go presents a win-win-win solution in which consumers get great food and great value and store owners no longer throw away delicious surplus and are able to recover some cost. Ultimately, all of us can work together to build a greener planet by reducing food waste and CO2 emissions.
We've learned that food waste has a huge environmental and carbon footprint. What are some other things you were surprised to learn about food waste?
The statistics around food waste are startling to think about. For example, 1/3 of food goes to waste globally, which equates to $1.3 trillion worth of food. And in the U.S. 40% of edible food is wasted on an annual basis, which amounts to throwing out a midsize SUV filled with food every second!
It's also crazy to think about how food systems consume about 30% of our available global energy. In fact, 25% of the earth's freshwater supply is used to produce food that's never eaten. By wasting this food, we are not only wasting the actual product, but also the resources and energy used to create it.
Impact is obviously embedded into Too Good to Go's business model. How does that play out when it comes to thinking through and making decisions around Too Good to Go's growth strategy?
As we continue to grow, we want to ensure we are growing with intention. We plan to be accessible to consumers on a national scale in 2021, and will have a presence in many of the largest U.S. cities by the end of this year. Since we launched stateside seven months ago, we've built strong momentum on the East Coast in cities like New York, Boston, Philadelphia and D.C. Now, we're very excited to turn our attention to the West Coast and will be launching in the Bay Area, Seattle and Portland over the next few weeks!
Too Good to Go has seen huge growth in the past few years. Since it was founded in 2015, you've expanded to 15 countries, including launching in the Bay Area just yesterday. As a societal problem, food waste has been around a long time. What do you attribute this rapid growth and success to?
The food waste issue is something that has, until now, somewhat flown under the radar. The need to connect the dots between food waste and climate change is crucial, now more than ever, while offering tangible ways people can take action on a daily basis, and make a difference. Our success is attributed to the ease of our app, and how it easily gives app users a way to live sustainably and fight climate change on a daily basis. Over 38 million conscious consumers and 87,000 mindful partners have joined our global Waste Warrior community, and we love being the source for fun, anti-food waste tips so everyone can incorporate these great habits into their lifestyle. Seeing the excitement and joy that app users get from picking up their Surprise Bags, and hearing from our partners that they haven't had to throw away fresh food, is our inspiration to continue working toward building a greener planet with zero food waste.
How could others – either organizations or individuals – replicate the impact that Too Good to Go is making? What can you tell people who are interested in starting a purpose-driven business, but are worried about competing with businesses that pursue profit at any cost?
Understand your passion and just do it. Businesses are already seeing the need to balance purpose and profit. For example, according to a recent study by Zeno Group, 94% of global consumers say it is important that the companies they engage with have a strong purpose. If your business has a clear purpose and mission, and the ability to execute on it in an impactful way,  anything is possible.
What's next for Too Good to Go? What else would your team like to achieve and how are you progressing towards those goals?
Since our U.S. launch in September 2020, Too Good To Go has already amassed over 500,000 app users, saved 250,000 meals, and added over 2,000 food shop partners across New York City, Boston, Jersey City, Philadelphia and D.C.—and we're so excited to continue to expand across the U.S. in 2021!
In the short term, we're focused on spreading the word about our app, while raising awareness about the massive food waste issue and its implications for climate change. In the long term, we're starting to think through how we can have a greater impact beyond the Too Good To Go app in the U.S., such as affecting change in food policies. For example, in the UK we've recently partnered with many influential food brands on a date labeling campaign, which is raising awareness around the differences between use by and best by dates and how they can often contribute to the issue of food waste. And similarly in France, we created an anti-food waste pact where over 40 food & beverage companies, like Nestlé and Danone, partnered with us to reduce the 'best before' and 'use by' date labeling confusion on their products.
Good News! Too Good to Go has just launched in San Francisco. To learn more and start fighting food waste, download Too Good to Go's app by visiting toogoodtogo.org.