Acacia Senegal is an inconspicuous but valuable tree which grows in desert regions under the most adverse conditions. Already in their first year, the roots of the then tiny trees reach four meters into the ground, attaining layers that are less dry. After four to five years, the trees produce Gum Arabic. This is why the women of Shagra planted thousands of Acacia Senegal trees in their village eight years ago. Nadia, the initiator of the project, thereby turned 80 hectares of dry, sandy land green again.
The women can now cut the bark of these trees to harvest the resin locally known as "tears of gold". Gum Arabic is used in countless products such as soft drinks or vegan burgers. It is not only healthy but also serves as an emulsifier, binding substances that would otherwise separate.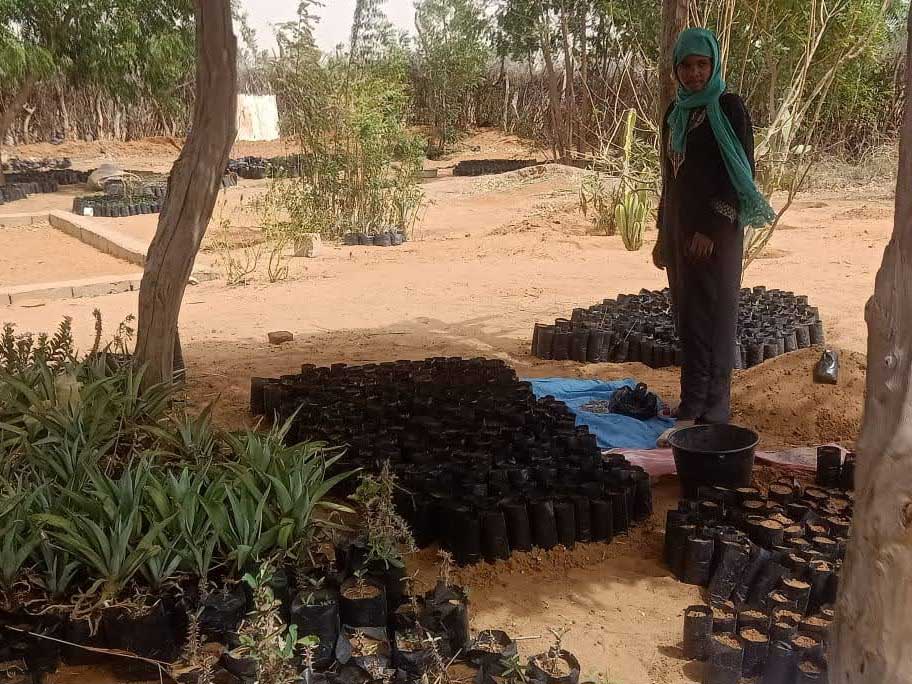 For the women of Shagra, the income from the sale of the amber-like raw material improves their livelihoods as well as their role within their families and villages.
Thanks to the Ecosia community, we're currently financing 23 tree nurseries in Sudan, where several hundred thousand Acacia Senegal and fruit tree seedlings are growing. About 300 women work in the nurseries, distributing the seedlings to smallholder farmers before the rainy season begins.
Around Shagra, where the project of Nadia and her all-female team is well known. There were so many people who wanted to plant Acacia Senegal trees that some of them could only receive five seedlings instead of 200, as previously planned. These are now being nurtured, stopping erosion and desertification, and improving soil quality by fixing nitrogen. Hopefully, in four to five years, they too will produce Gum Arabic.
Today, the plantation of the women of Shagra already showcases the opportunities and challenges of the region: in an area where almost all trees have been cut down, the acacia trees provide shade. As a result, more than 2,000 refugees, displaced from the surrounding villages, have pitched their improvised tents. Thanks to your searches and purchases, we will plant millions of trees in the region, which in turn provide shade, make the desert greener, and help local communities take charge of their future. The income from the fairly traded gum arabic will be partly re-invested into more trees, thereby enabling the project to grow on its own.