From novels to non-fiction, classics to modern writings: here's a list of the Ecosia team's favorite books on the climate.
Start with these books to better understand climate change, the relationship between humans and nature, and why experts claim that we have entered a new era, the Anthropocene:
1. Silent Spring, by Rachel Carson
Recommended by Joshi, Editorial Lead at Ecosia
Rachel Carson's Silent Spring – the book that launched the environmental movement – demonstrated to me, with scientific rigor and devastating prose, that, in nature, everything is connected to everything else. Interfering with this web of life has costly consequences: a warming planet, a pesticide-infected food system, a million species on the brink of extinction – a world, in short, "that is just about not fatal". If our leaders read Silent Spring, and I doubt they will, they would stop treating our planet like a warehouse and a sewer. They would see its delicate and transient beauty. They would recognize that we share a home and a future with other creatures. They would be made to feel the discord between the rhythms of our modern, plundering way of life, and of that larger life of which our species is but a fraction.
2. Cosmos, by Carl Sagan
Recommended by Stuart, Senior Product Manager at Ecosia
Forget the turtleneck sweaters and the 80s soft-focus TV series. I came to the book first and read Cosmos cover-to-cover in an intense few days aged 16. Asking the question what should I do with my life to understand as much as possible about the world and how it works, this book gave me the answer. Physics became my passion. Cosmos teaches us to question accepted authority on every subject, it communicates big ideas in human language and invented the genre of popular science writing. Touring the worlds of our solar system, we glimpse the fragility of life and witness the run-a-away climate disaster of our neighbor Venus. Here is the sense of awe and humility all of us should feel when we consider our precious planet as one grain of sand on the shore of the cosmos. Carl Sagan's words are the antidote without which "if we capitulate to superstition or greed or stupidity… it is well within our power to destroy our civilization and perhaps our species as well.".
3. Land grabbing, by Fred Pearce
Recommended by Fátima, Community Lead and Video Strategist at Ecosia
Who owns the earth? This is perhaps one of the most comprehensive accounts of how defined land rights are key to providing food security. Or, conversely, how the lack thereof puts food security at risk, violates human rights and is a driving force behind the degradation of the world's soils. This power struggle between rich countries, agribusinesses and other chancers for land acquisition is driving climate change. Lose land rights are the key to why that "land acquisition" actually becomes "land grabbing" - more than 70% of the deals happen in countries governed by undemocratic regimes who exchange communities' - often minorities' - lands for a tiny share of the large profits the original land grabbers gain. An indispensable read to understand the system governing worldwide food production.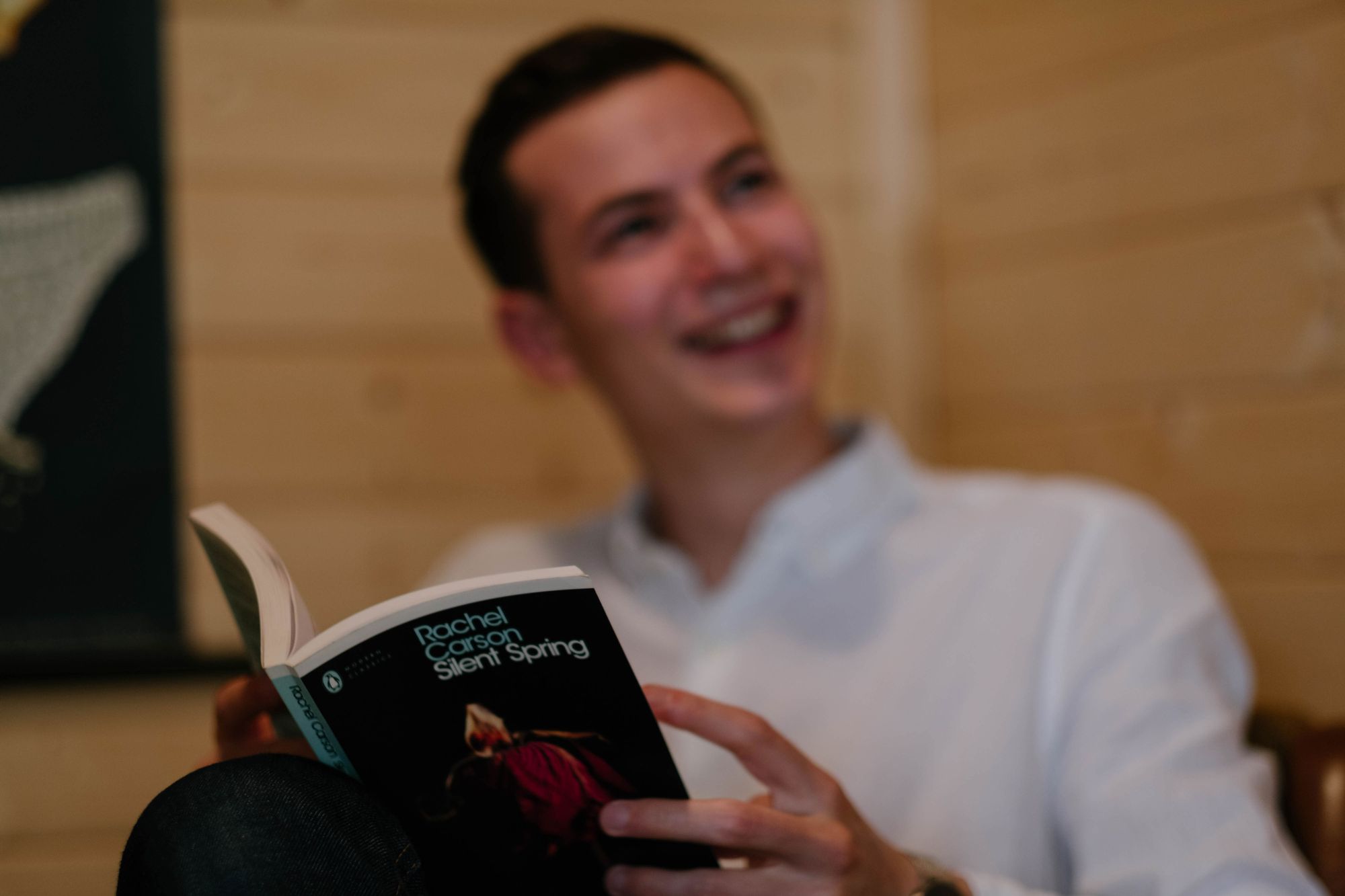 4. Drawdown, various authors
Recommended by Christian, CEO & Founder of Ecosia
This book is the most comprehensive plan ever proposed to prevent a climate collapse. It evaluates not only the options we have available to reduce our CO2 emissions, but also looks at the best ways to sequester CO2 from the atmosphere. Of course, planting trees is one of the most effective and most scalable methods suggested to solve global warming (much of the book's content can also be found here).
5. Restoration Agriculture. Real-world permaculture for farmers, by Mark Shepard
Recommended by Wolfgang, COO at Ecosia
This is a surprising book about the fundamentals of our agricultural system. It does not stop with the downward spirals in industrial agriculture, but criticizes the planting of annual crops – crops, that is, which require ploughing, fertilization, seeding and weeding every year, again and again. It's what Shepard calls "STUN" – "Sheer, Total, Utter Neglect". Why do farmers normally spend most of their time killing what wants to live and keeping alive what wants to die? Instead, the author proposes agroforestry systems using only perennial plants. That is, plants which basically only require to be harvested.  Shepard's point is - working with nature as opposed to working against it will make the difference. And that goes as deep as moving away from growing annual plants.
Recommended by Génica, Head of Ecosia Germany
Peter Wohlleben is probably Germany's most famous forester. He has published several books about forests and living in nature. In this – my favorite – book of his, Wohlleben speaks about the life of trees, a concept probably most of us weren't familiar with. But Wohlleben opens our eyes to the fact that trees talk to each other, how they feel pain and shows why German forestry is so damaging for trees. Scientifically sound but understandable for everyone, his books have reached millions of people in different languages and made trees trendy again. For my work at Ecosia, Wohlleben's books are an important foundation. They helped me understand that the trees Ecosia plants are much more than "just" trees.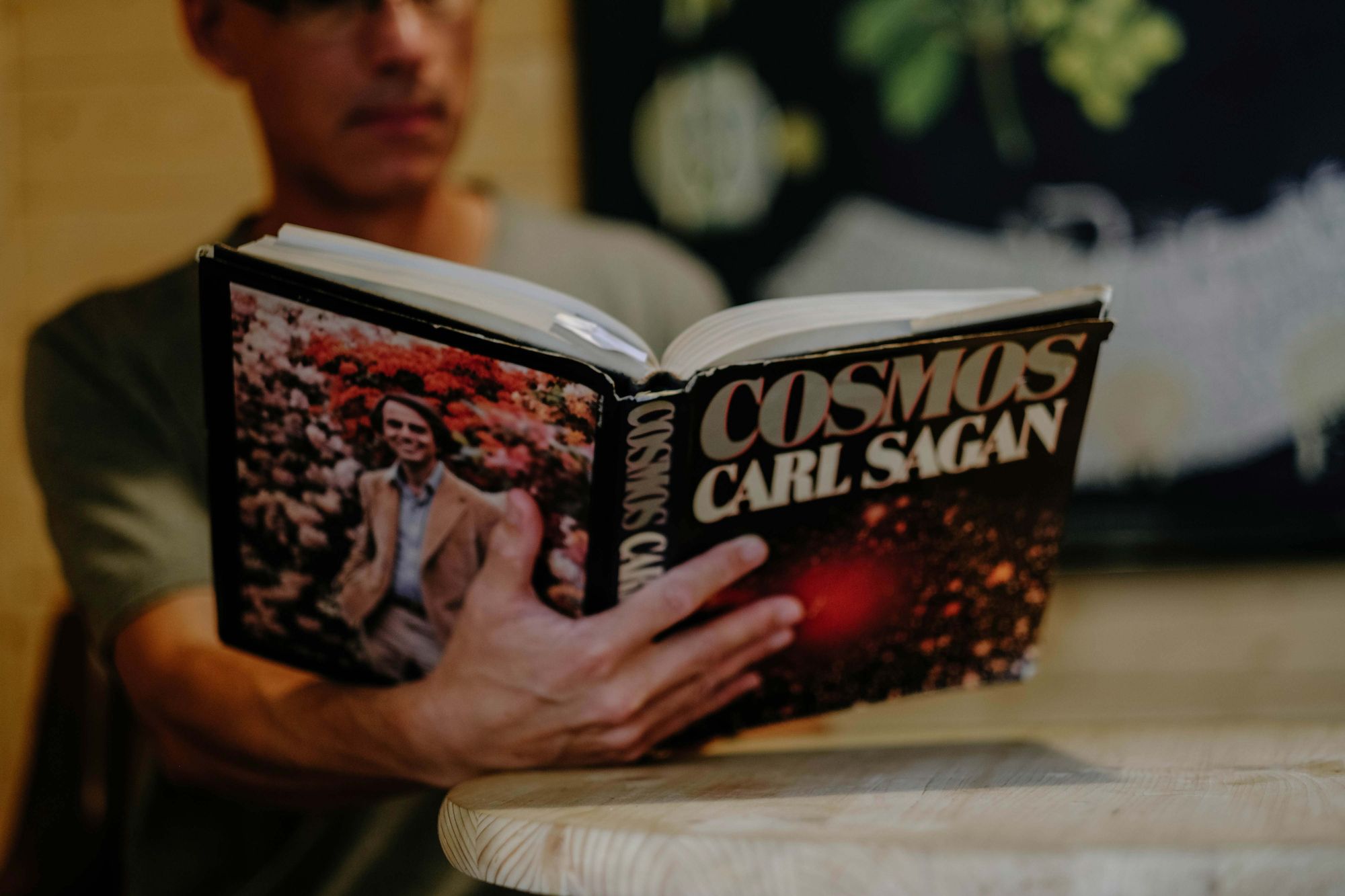 7. This changes everything, by Naomi Klein
Recommended by Hannah, Chief Marketing Officer at Ecosia
If you're going to read one book to understand what has caused the Climate Crisis this is it. Naomi Klein clearly and meticulously looks at the economic and political model which has resulted in massive environmental damage to our planet, and then explains what needs to change. It's a book of eye-opening importance, which also manages to be a gripping read, filled with fascinating details, anecdotes and stories that make the situation truly understandable.
8. Gaia, a new look at life on Earth, by James Lovelock
Recommended by Fred, Ecosia on Campus champ
In this book, scientist James Lovelock puts forward his famous Gaia hypothesis. The crux of his argument is that the earth has a complex self-regulating ecosystem that encourages and perpetuates life. He explores how trees regulate oxygen levels in the biosphere and the vital role that microscopic plants have played in making the earth a habitable place for more advanced forms of life. After reading this book it made me realize the extent to which we owe our existence to the plants that have made life possible.
9. Happy City: Transforming our Lives Through Urban Design, by Charles Montgomery
Recommended by Nikki, Marketing Analytics Lead at Ecosia
What is happiness? How does our urban environment shape our health and mood? Drawing on history and new insights from psychology, neuroscience, and urban experiments, Montgomerty traverses around the globe in search of what makes a happy city. What he discovers along the way is truly eye opening. This book completely changed the way I see the built environment around me, an incredible guidebook for how urban design can completely transform communities and the world we live in: "The happy city, the green city and the low-carbon city are the same place, and we can all help build it."
10. The Year of the Flood, by Margaret Atwood
Recommended by Lasse, CTO at Ecosia
Published two decades after The Handmaid's Tale, Atwood envisions another social dystopia, this time ecological in origin - or is it? This book, part of the MaddAddam trilogy, reads much more speculative than her previous novel about the fundamentalist theonomy that recently enjoyed renewed attention. Still, a good ten years after its publication, I feel it has only been growing in relevance and eery foresight. There is nothing quite like a good dystopian imagination to connect all those accelerating and oftentimes seemingly isolated developments we are observing, and to make them feel tangible and urgent in a way that science sometimes fails to do.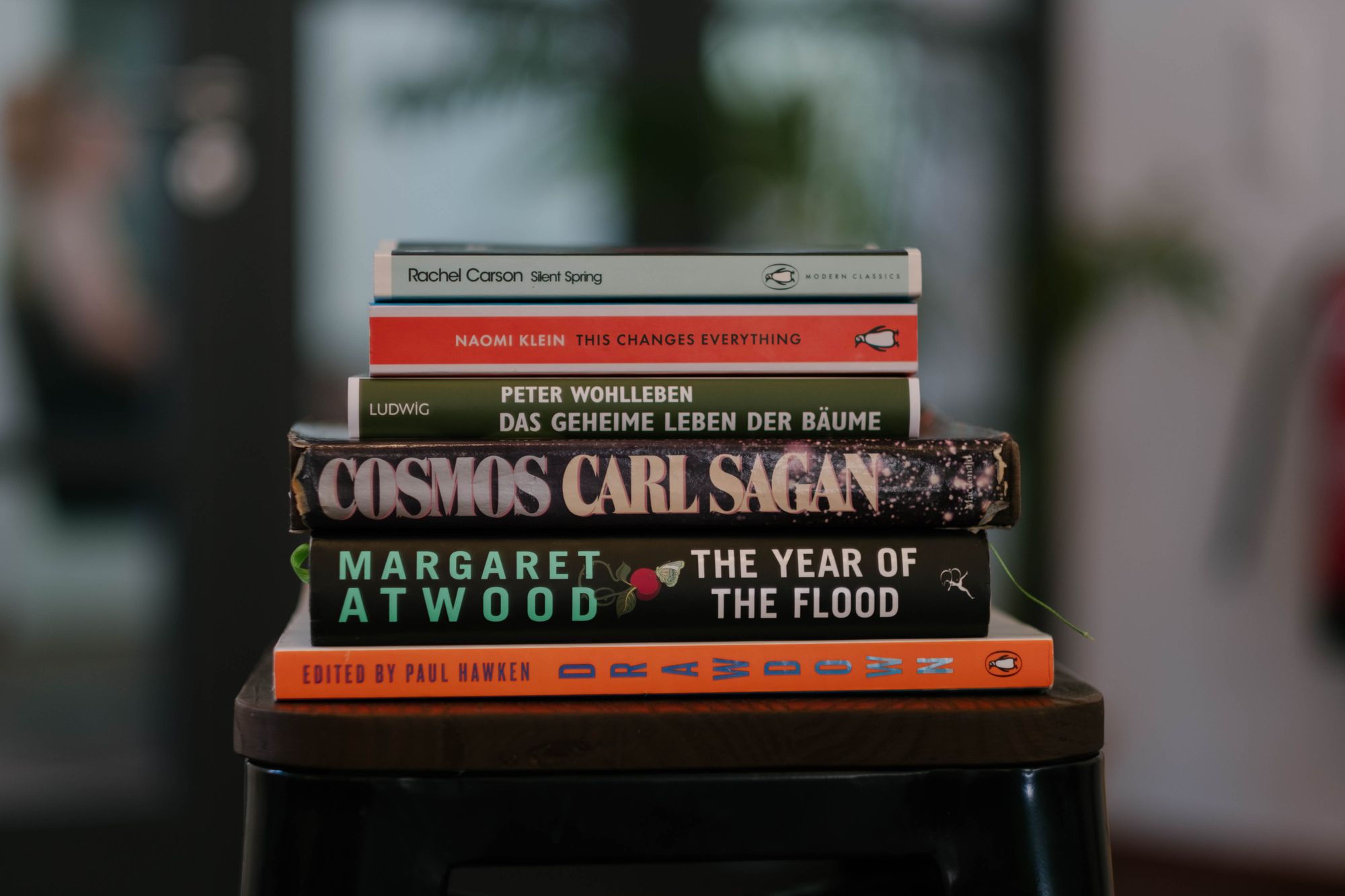 If you want to buy any of these books but they're not in stock in your local book store, we recommend you order it through Better World Books. For every purchase, BWB will donate a book to someone in need.
What are your favorite books on the environment? Let us know in the comments!