You will soon have two ways of planting trees with Ecosia: with your searches, and with every purchase you make! We are proud to introduce Treecard, a free debit card we are creating. It will put 80% of its profits to plant trees across Ecosia's reforestation projects. You can register your interest here and be among the first to receive a Treecard when it is released.
A wooden debit card
Each Treecard will be unique, since the debit cards are made of sustainably sourced cherry wood. Treecard – which was founded by two Londoners – can produce more than 300,000 cards from a single tree. Goodbye, plastic.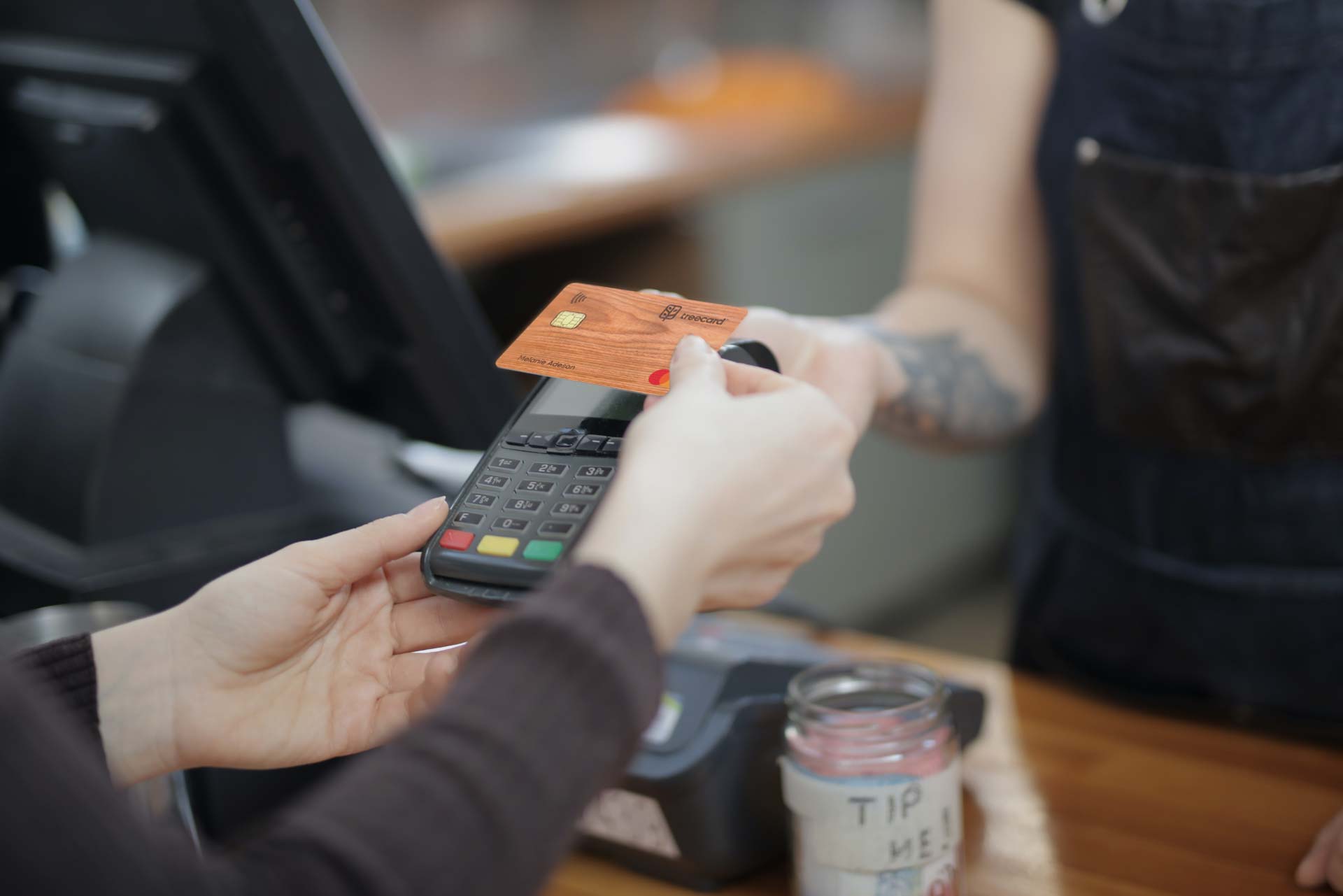 When you pay using your Treecard, the merchant will pay a small (standard) transaction fee which will support our reforestation projects. Every $60 spent plants a tree!
Keep track of your finances and your trees

Treecard will come with a state-of-the-art app that lists all your transactions, helping you be mindful of your spending and the planet. The app will also let you keep track of the trees you've planted with your purchases. Want to split a bill with your friends? The app will let you do that too.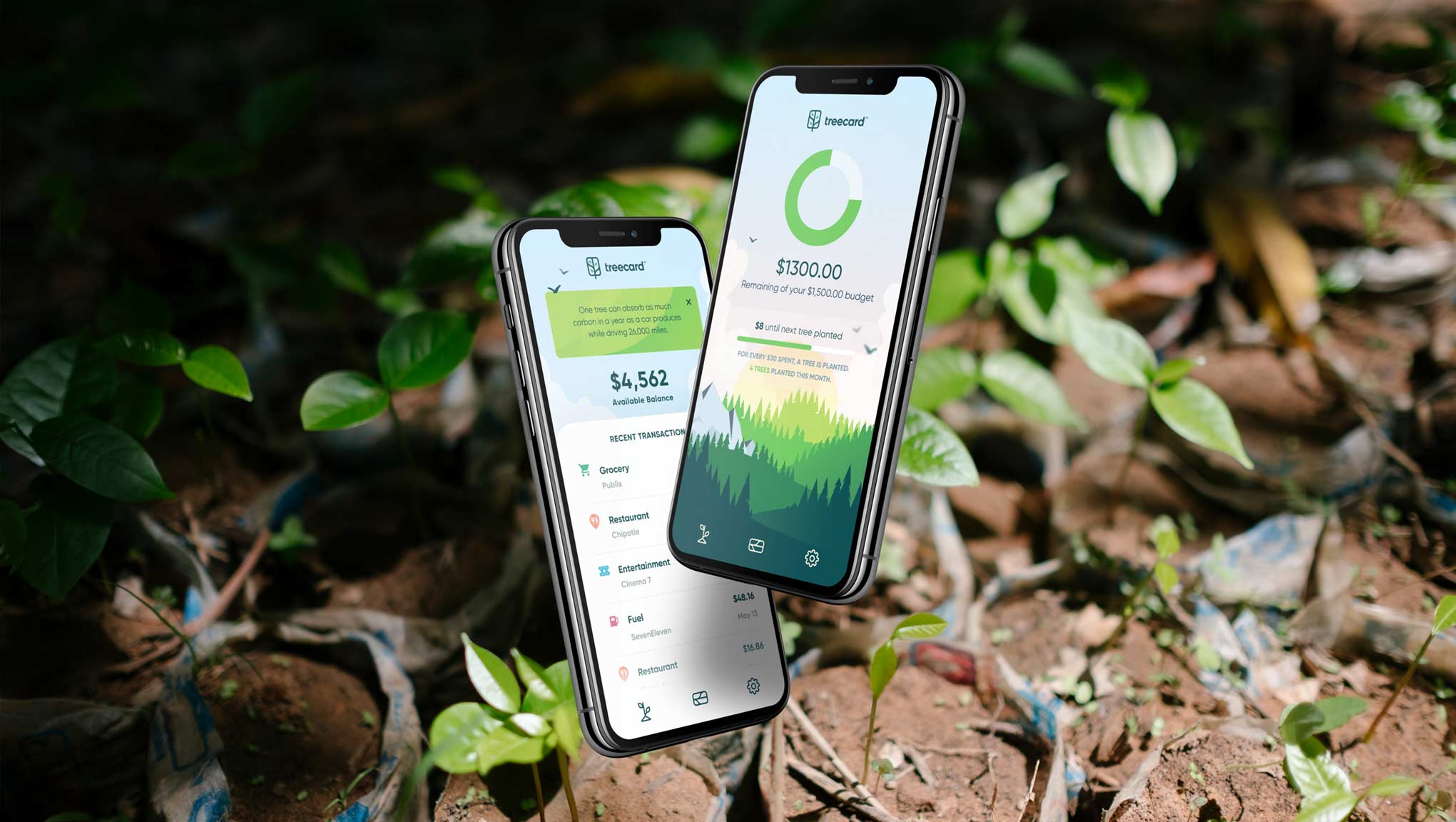 The trees planted with Treecard are going to be planted across our 38 reforestation projects and will, of course, be subject to the same strict criteria as all other Ecosia trees: in biodiversity hotspots, and always in collaboration with local communities. Ecosia doesn't plant monocultures or invasive non-native species. The trees are monitored closely using satellite technology and field visits, and are only counted if they survive for more than three years.
Why Ecosia is powering Treecard

Empowering everyone to tackle the climate crisis is why Ecosia exists. We want to plant and protect billions of trees, and we can do so by providing innovative tools that enable you to live a greener life.
That's why we provided seed-funding for Treecard. We made an investment, in other words, that will help us plant more trees — since debit cards, like search engines, can generate a lot of money.
But we also believe that the financial sector and its ruthless pursuit of profit – e.g. by funding fossil fuels – is in dire need of political reform. If, in the meantime, ethical challengers like Treecard can generate enough interest, the industry will be forced to take a hard look at itself. We have worked closely with Treecard's founders, and are confident that their experience, as well as their values, will help them successfully take on the industry's giants.
In the future, we plan to partner with other green innovators, like Treecard, to further disrupt the status quo — because the status quo is not compatible with a future in which everyone can live healthy, safe and fulfilled lives.
Register interest in Treecard
Ecosia provides a simple alternative for something you do every day — searching the web. With Treecard, there will be a greener alternative for another daily routine. Just like our search engine, Treecard can have a huge impact: if it gets as many customers as Chime, for instance, it could plant 360 million extra trees each year.
Let's make a difference together. Register interest before December 1 and Treecard will ship you a free wooden card when they launch in your country — with no hidden fees, and no greenwashing.