Update 1: It's working! Pressure is building for RWE who just announced they may reduce their coal extraction by 25%.
Update 2: An update! RWE has formally declined our €1M offer. At this stage, the energy firm is confident that the court will allow them to cut down the remaining part of the Hambacher Forest. We are now in negotiations with them regarding a second offer. Let's continue to build momentum to save the 12,000-year-old forest!
---
Dear Ecosians,
We are offering RWE 1 million Euros to buy the remaining stretch of the Hambach Forest from them. We are hoping to save this unique ecosystem from being forever lost to the public and future generations.
You might have heard of the Hambach Forest by now. It's a 12,000 year old piece of woodland that once used to measure more than 13,500 acres. Since the German energy provider RWE started cutting it down in 1978 to mine for coal, only 10% of the original forest cover are left.
Lignite is by far the most harmful energy source for our climate. According to comprehensive studies, it's no longer needed to power Germany's energy consumption. Nonetheless, RWE is planning to cut down the remaining stretch of the Hambach Forest in mid October.
The Hambach Forest is part of a unique primeval ecosystem. Once lost, it will be lost forever. Some of the trees in this very special forest are more than 350 years old. As you may know, trees are among the most efficient CO2 filters on the planet. If cut down, the captured CO2 is re-released into the atmosphere. Cutting down an entire forest full of such old trees to make space for unnecessary coal mining would have a devastating effect on our climate. It's an idea we're not willing to accept.
This is why so many people have been trying to fight the logging of the Hambach Forest. But despite all the protests, international media coverage, and entire organisations joining forces against RWE, the deadline for the logging is getting closer and RWE won't back down.
We too - just like so many others - have raised our voice for the Hambach Forest and asked our community for support. Last Saturday, we joined 50,000 people at the official protest in front of the forest. We have used our social media channels to activate everyone we know. We shared impressions from the protest. It was incredible to see how many people care about this forest. More than 800,000 people have already signed the Greenpeace petition. According to a survey conducted this month, 75% of Germans want the Hambach Forest to be preserved.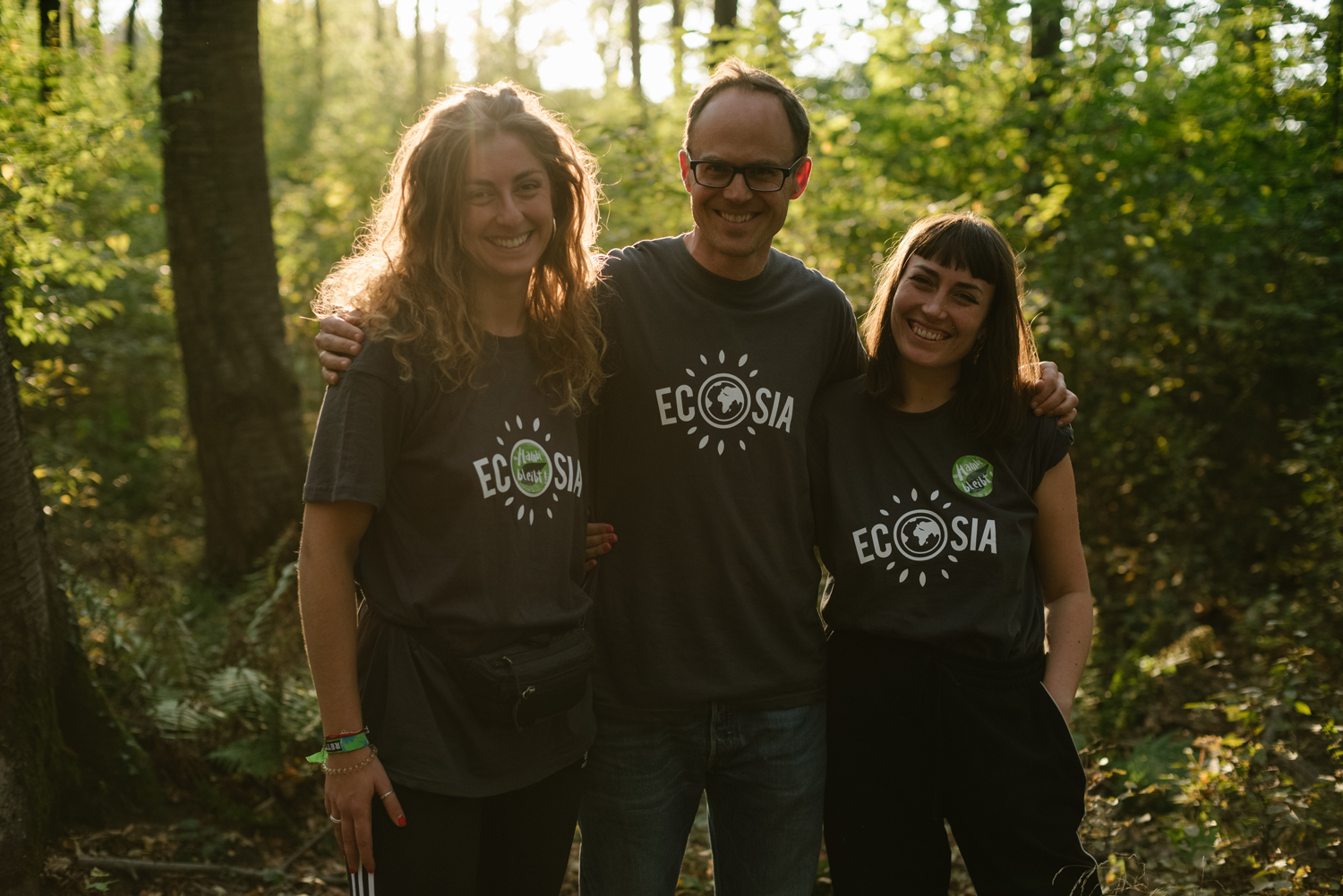 Thanks to a court ruling last Friday (Oct 5th 2018), the logging has come to a temporary stop. However, this doesn't mean that the forest is safe. RWE could continue cutting down the last part of the forest as soon as the final verdict has been issued.
The fight for the Hambach Forest has long become a fight for our climate. People have begun to fight for what they believe in because politicians seem to have succumbed to the powerful energy providers' lobbies. We have to save the Hambach Forest as a unique ecosystem and as a symbol for our fight against climate change.
We asked ourselves what else we could do at Ecosia. We don't intend to harm anyone; our goal is to find a way to save the forest and preserve it for the public. That's why we have decided to extend an official acquisition offer to RWE.
We are offering RWE €1 million for the remaining stretch of Hambach Forest. In comparison to the original sum RWE once paid to buy the forest, this is a fair price. Considering the revenue RWE is expecting to make by turning the coal underneath the forest into energy, our offer might not be high enough. However, it is what we are able to pay at this point. We are hereby asking other companies and organisations to join us and help us increase the offer.
We have to save the Hambach Forest as a unique ecosystem, as a symbol for our fight against climate change, and as a piece of precious woodland that should be accessible to everyone.
We're hoping for your support.
Warmest wishes,
Ecosia
P.S. As you may know, we use our profits from ad revenue to plant trees. This is our so-called Tree Fund. The €1 million we are offering to pay for the Hambach Forest will not be taken out of this Tree Fund. Instead, we are going to take the money out of our reserves, which are intended for emergencies and as a buffer for special cases like this one. The last time we took money out of our reserves was when we built our own solar plant, thanks to which Ecosia is now 100% powered by solar energy.