We're always working on improving your search experience and helping you have a bigger impact with Ecosia. Here's an update on what we've been up to.
Improved results by diversifying search providers
In Canada, Mexico, New Zealand, and the Philippines, we've added search results provided by Google. Whether you get Google search results is up to you — you can opt-in or opt-out. We're expecting the quality of search results and ads to improve in these countries, allowing more people to plant and protect trees with Ecosia. Diversifying our search providers also makes us a more resilient player in a competitive and rapidly evolving industry — helping us have a positive impact far into the future.
This impact is, after all, driving everything we do. We will always use 100% of our profits for the planet, produce enough solar energy to power all searches twice over, and plant and protect the right trees in the right places.
We're now closely monitoring the performance and impact of this change. If we receive positive feedback from you, we might roll out Google search results more widely.
More comprehensive green features
We've been building the future of green search since 2019 to help you be climate active and make more informed decisions online. For instance, we place a green leaf icon alongside the websites of planet-friendly organizations, and a fossil fuel icon next to some of the most destructive actors.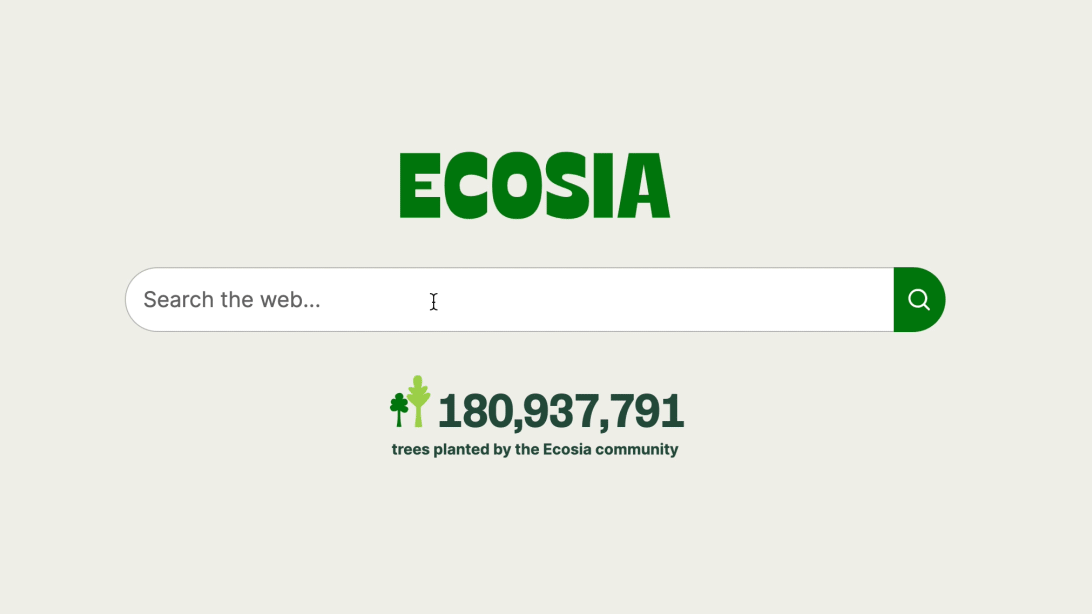 Thanks to new information from Banking on Climate Chaos, we made the fossil fuel icon even more comprehensive in 2023 by highlighting banks who are financing fossil fuels — including the 32 global banks providing more than $50 billion of funding toward oil and gas activities. No fossil fuel emitter could continue their work without extensive financial support, and you deserve to know who's providing that support.
Rich search results
Thanks to your feedback, we've developed new rich search results. For instance, you can now book a train directly from Ecosia: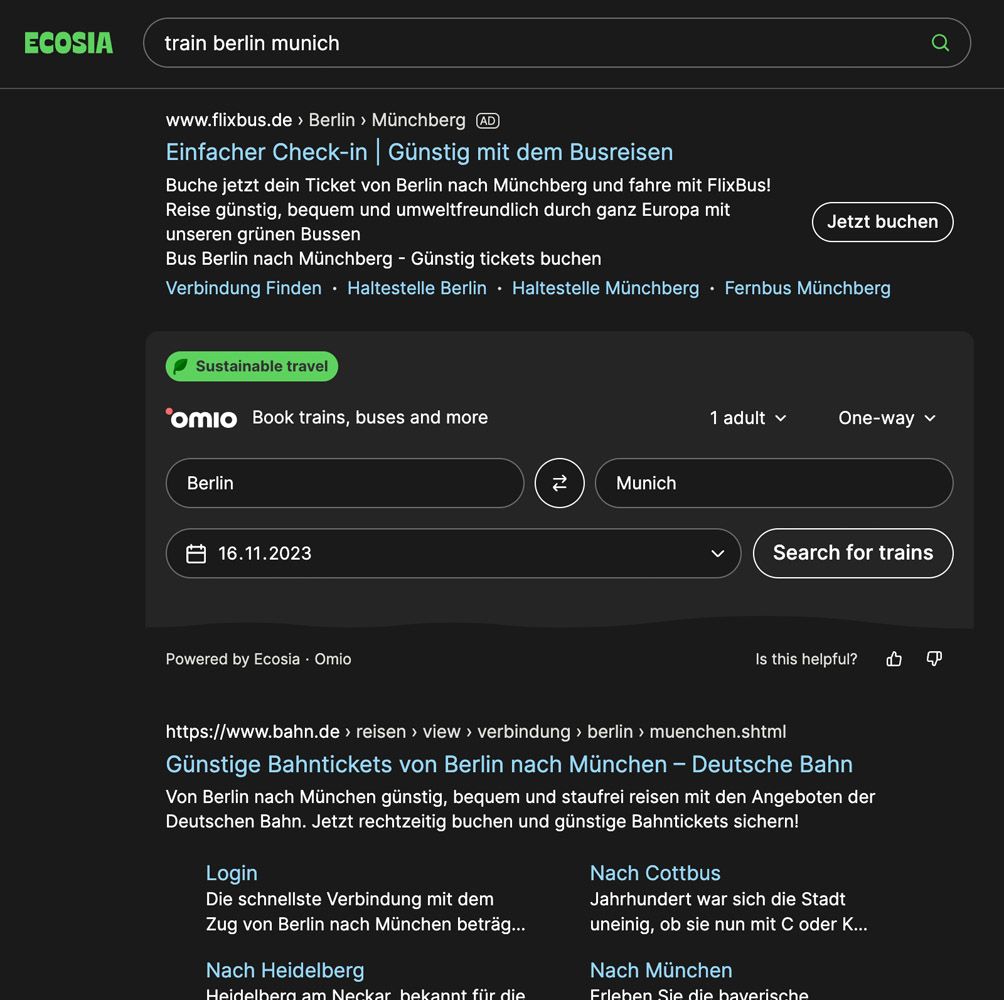 Once you've done that, you can also see attractions and book hotels with our new widgets: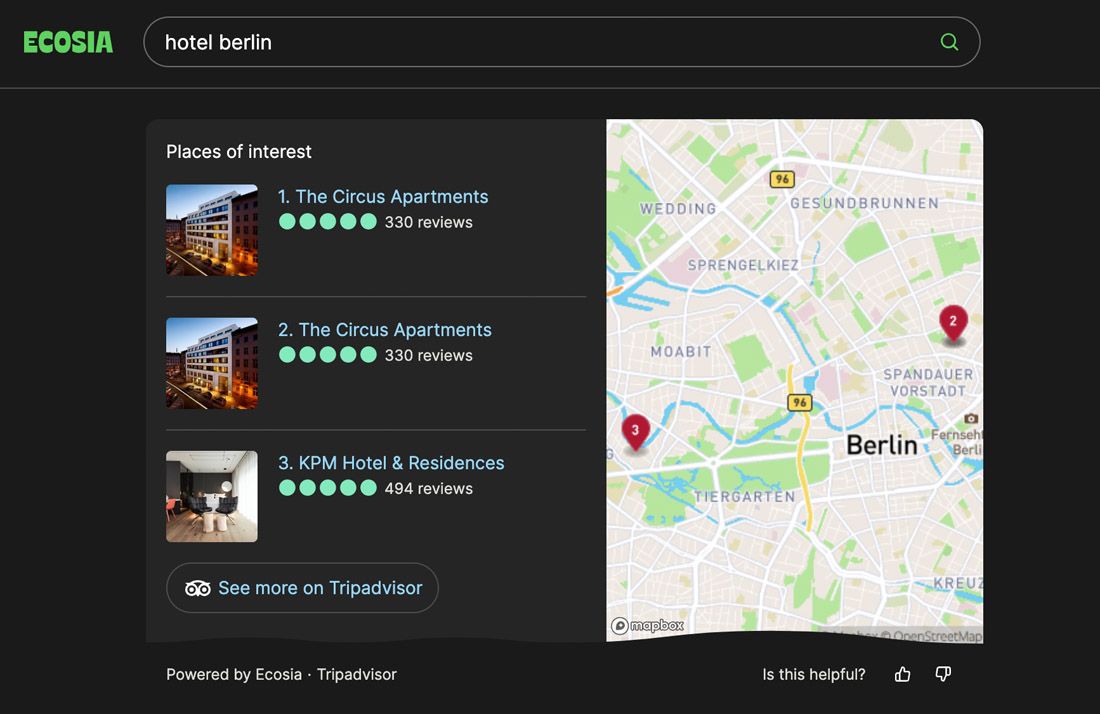 Don't worry if a hotel lists their prices in a foreign currency. You can now convert currencies without leaving Ecosia: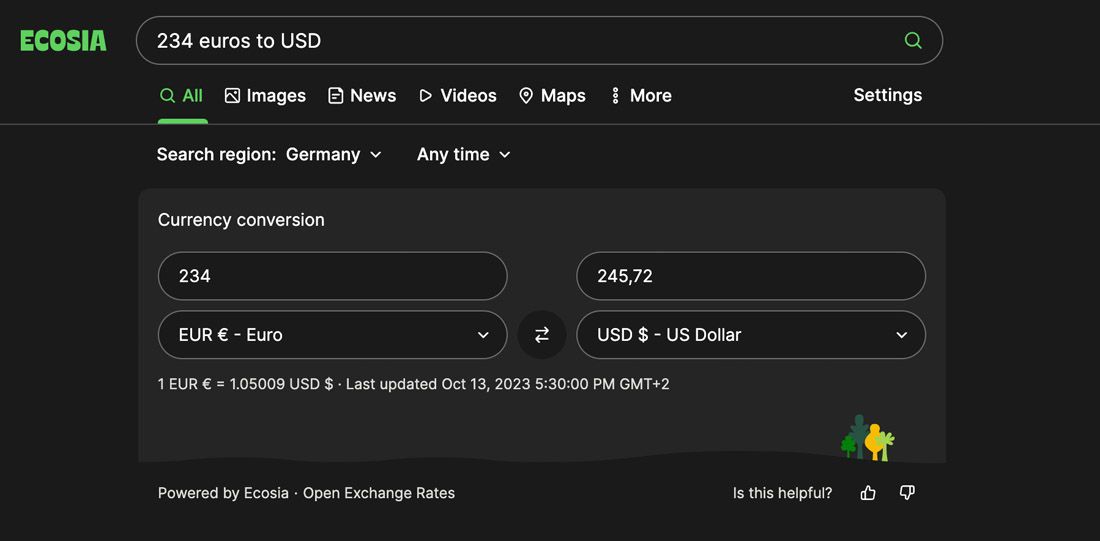 Which rich search feature would you like to see next? Tell us here.
Ecosia AI Chat
AI is evolving fast. What if this technology could be harnessed for good? With the Ecosia AI Chat, a green chatbot, that's exactly what we're aiming to do. You can ask it to plan a climate action weekend or write a Shakespeare sonnet about trees — the possibilities are virtually unlimited.
Ecosia AI Chat is currently in beta and available in select countries, but we're working hard on making it available more widely.
That's a wrap for now! We hope you'll enjoy some of these new, planet-approved features.