Emily Claire Voelker is an Australian-German artist, illustrator and animator. She's a spokesperson and co-founder of Parents4future in Berlin and shared a version of this article outside the Australian embassy during a protest about the wildfires.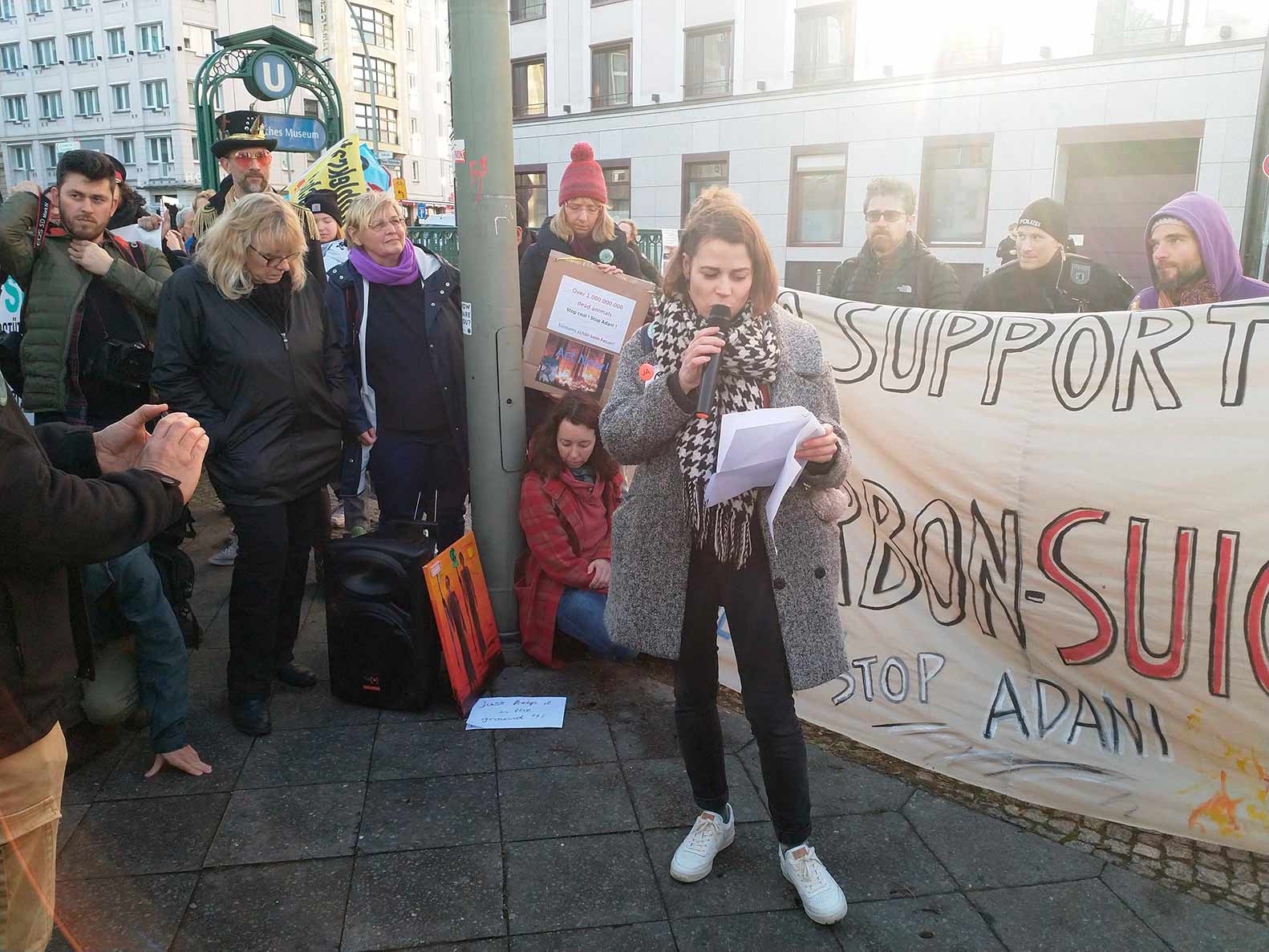 I remember the night the smoke blew in to Canberra for the first time, in early December. It was a warm night so the window in our room (where my kids sleep, too) was open. When I checked on them I noticed the smell of smoke.
I thought the neighbors must have been having a BBQ. How could they be so careless as to have an open fire in the midst of a drought?
But of course it wasn't my neighbors, but the fires in Murramarang National Park and Braidwood, hundreds of kilometers away.
Carla, my cousin, used to go to these national parks since she was 14, and had plans to take her kids there soon. Her email reads on:
It's the powerlessness I have, to not be able to give my kids fresh air to breathe. It makes my stomach turn. You feel like running away, but there's nowhere to go.
Over the past month the air quality in Canberra has gone from hazardous for sensitive groups (including babies), to 14 times over the hazardous level for any human.
Those days are hell, especially when it's also 40 degrees outside. The smoke fills our house, even with all the doors and windows shut, and with masking tape around the doors to cover the gaps. It still gets in.
Conservative estimates predict that the fires have killed over a billion animals so far - and the fires are still burning. Some species may have even crossed the line to extinction.
I don't know if there's any point mentioning my feelings about the political ineptitude to deal with this disaster, the spin and propaganda they're pumping out in the media, saying it's nothing to do with climate change.
I cried when I finished the email. I'm sure many of you have heard a similar account or have even experienced the devastating bushfires first hand.

While I'm grateful that my children don't have to breathe in smoke right now, I am completely aware that this is a future we could also be facing. And I feel helpless, too, because I can't make the smoke in Canberra go away. I can't help my cousin Carla.
Half my family is Australian, so our home is filled with children's books about Australian wildlife - wombats, koalas, platypuses, possums, kangaroos, cockatoos.

When I look at those books with my kids and they ask me a thousand questions about those animals, I don't know which of them will still exist when they grow up. It breaks my heart, and I wonder when they will begin to understand who's to blame.
I have another Australian cousin who works for a big corporation that owns and operates several mining projects, including coal – I'll call him cousin G.
And although he would never deny manmade climate change, he also believes that Australia can't provide enough renewable energy to cover its demand - contrary to what experts predict.
So, like most families, mine is complicated. We have a WhatsApp chat where we exchange photos and jokes, but never really talk about politics or climate change. I think that might have changed now. I was really surprised and grateful how my family opened up and shared their concerns, thoughts, and anger. I'm even going to have a phone call with my cousin G.
So, in a way, I also feel empowered. Because I know he takes these things seriously and I know we all want a future for our children.
We have to start where we can. Open up a conversation about how to get this right, how to do this better. How to break out of cycles and systems we and the entire world are caught up in. And we have to start at the grassroots by talking to our friends, our families, our neighbors. Because we are all going to be affected by the catastrophic consequences of a warming planet, including those working in the fossil fuel industries.
On the one hand, I've lost faith in Australia's government: it appears to be firmly in the grip of the coal industry, it fuels the climate crisis with yet another coal mine, it cuts funding for fire services and is even flat-out denying the crisis, threatening to make climate protests illegal (and all that after a year that has been the hottest and driest on record)...
…on the other hand, I also know that, at a grassroots level, many changes are already happening.
I know farmers are offering their paddocks to neighbors who have lost everything, while others are donating hay. I know that thousands of volunteer firefighters have been working beyond exhaustion. I know that people all around the world are fundraising and donating to help restore wildlife and support communities hit by the fires. I know that more and more people are trying their best to change and are demanding government action. Industries and corporations are beginning to act, too. I haven't lost faith in us, the people, including the Australian people.
So I want to send a message to my cousin Carla in Canberra, surrounded by smoke: you are not alone. We are here, we are also grieving and we are doing all that we can. We will not accept this reality, this future.
So, while we definitely demand action from our governments, we will also do everything in our power to help build a world and society not based on the exploitation and destruction of each other and the natural world – our home – but a society based on empathy for each other and all beings, courage, creative solutions to the problems we are facing and, of course, reckless hope.
Together we will be the change.