Together with other alternative search engines, we sent an open letter to the EU commission regarding Android's so-called "choice screen" – which we had previously criticized.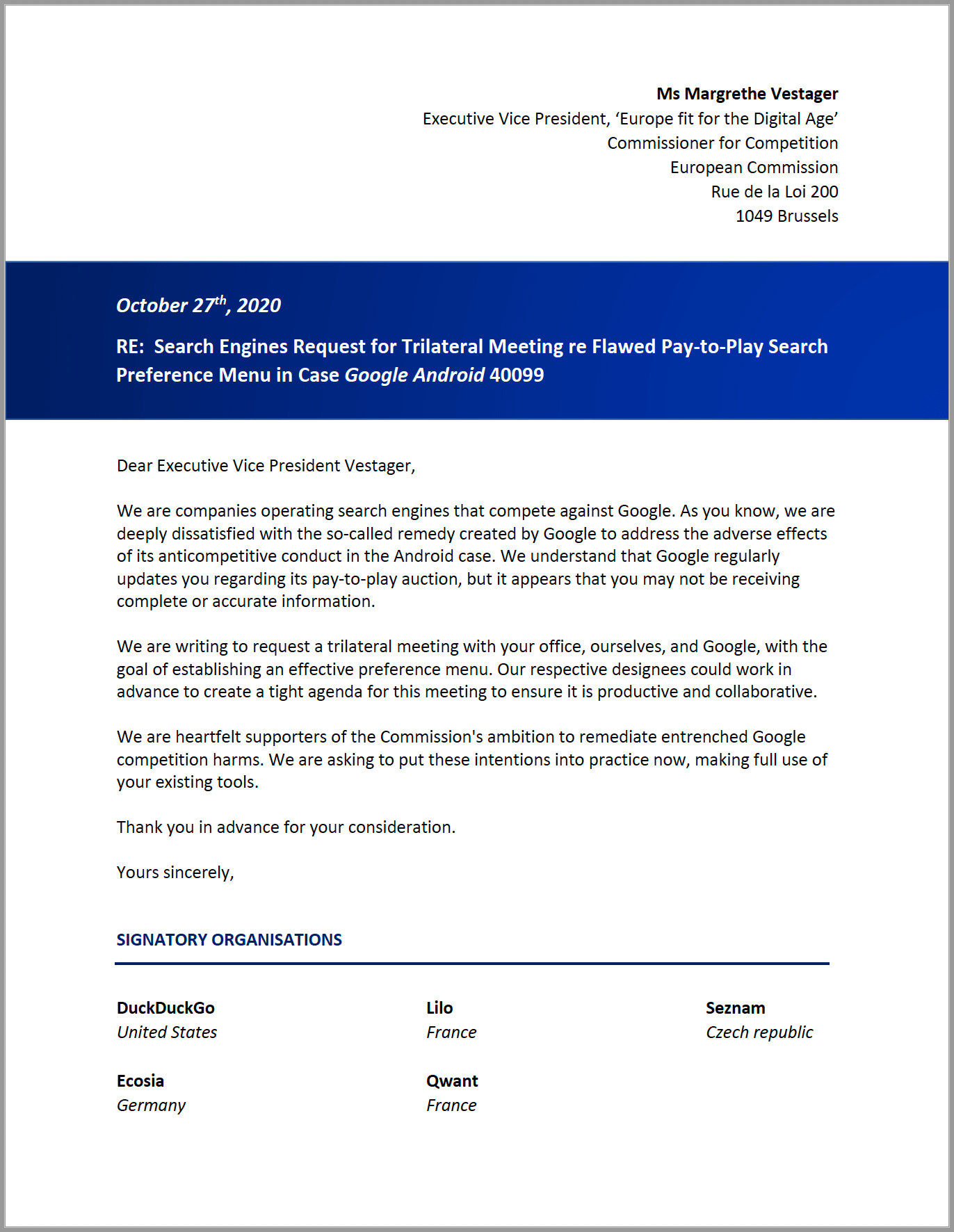 Over the last decade, Google has become one of the most monopolistic organisations in human history. Its search engine has a market share of 87% – in no other industry would such dominance be tolerated by antitrust regulators. Since the 2018 EU antitrust ruling against Google, the behemoth has actively ignored the spirit of the ruling, and proposed auction-based solutions that are nothing more than an affront to the sovereignty of European regulatory power. These are the primary reasons why we're joining forces with friends from other alternative search engines – in the wake of the US Department of Justice filing antitrust charges against Google, we jointly call for a renewed look at the way Google's dominance is policed. A round table discussion between the European Commission, Google and alternative search players is now needed, particularly in regards to the pay-to-play Android auction.
Google's control of search is surprisingly simple – it dominates search by paying for the right to be the default search option on every major browser, owning the world's most popular browser Chrome, as well as the Android operating system. They also control Gmail, the world's largest email service, as well as the world's second largest search engine, Youtube. This "funneling" process ensures that people are always within Google's ecosystem, driving users back to the main search engine, and creating financial firepower that no rival could hope to compete with.
What we'd like to see is a regulated end to this pay-for-play funneling approach – no single organisation should own this many access points onto the web. We want to see EU-wide regulation that ensures that all players, no matter how much financial firepower they have, have equal visibility on all browsers and operating systems. Giving all players access and not just Google, will allow users to opt for whichever search engine they prefer most, which in the long-run will help to create fairer competition in our market.