Earlier this year, we decided that we would like to support participants of Rails Girls Summer of Code, a 3-month scholarship focused on helping underrepresented individuals get into the industry. We signed up to be a coaching company, offering space and mentors for the selected team. Then the pandemic happened. Due to a lack of resources, the program was cancelled before this year's participants had even begun.
I had taken part in the Rails Girls Summer of Code in 2018, which helped me apply for my first programming position at Ecosia. Having participated in the program, I was able to demonstrate collaborative work and an understanding of what the position would entail. Coming from a non-traditional background (I used to work in the specialty coffee industry) this experience was a crucial step in my transition into tech.
Although the program had been cancelled, we still wanted to support the participants. So we began to put together a mentorship program ourselves that ran from mid July to the end of August. The participants have worked on their own projects, receiving support from some of Ecosia's developers, who answered their questions during "open hours".
"Open hours added structure to my work. It helped me ask more objective and thoughtful questions. This directly impacted the evolution of my project, encouraging me to be more organized and have more deliverables (more code!)"
— Paloma, Ecosia Summer of Code participant
Additionally, we held hour-long knowledge sharing sessions that focussed on topics the participants were interested in, such as agile workflows, testing, accessibility on the web, security, quality assurance, and many more.
"I really enjoyed all the knowledge sharing sessions, but especially the "browser inspecting & debugging tools" session and the one about Agile and Scrum practices with Ecosia's agile coach Vanessa. Her presentation definitely changed my way of working as part of a team."
— Taciana, Ecosia Summer of Code participant
Over the past six weeks, Paloma and Taciana worked on their individual projects. Taciana's project is a system for her father's lab that will help his patients schedule appointments. Taciana studied and worked as a computer scientist in her native country of Brazil, but stepped away from the industry to have her daughter and move to Germany. With her daughter now getting more independent, she felt this was the right time to re-focus on her professional development.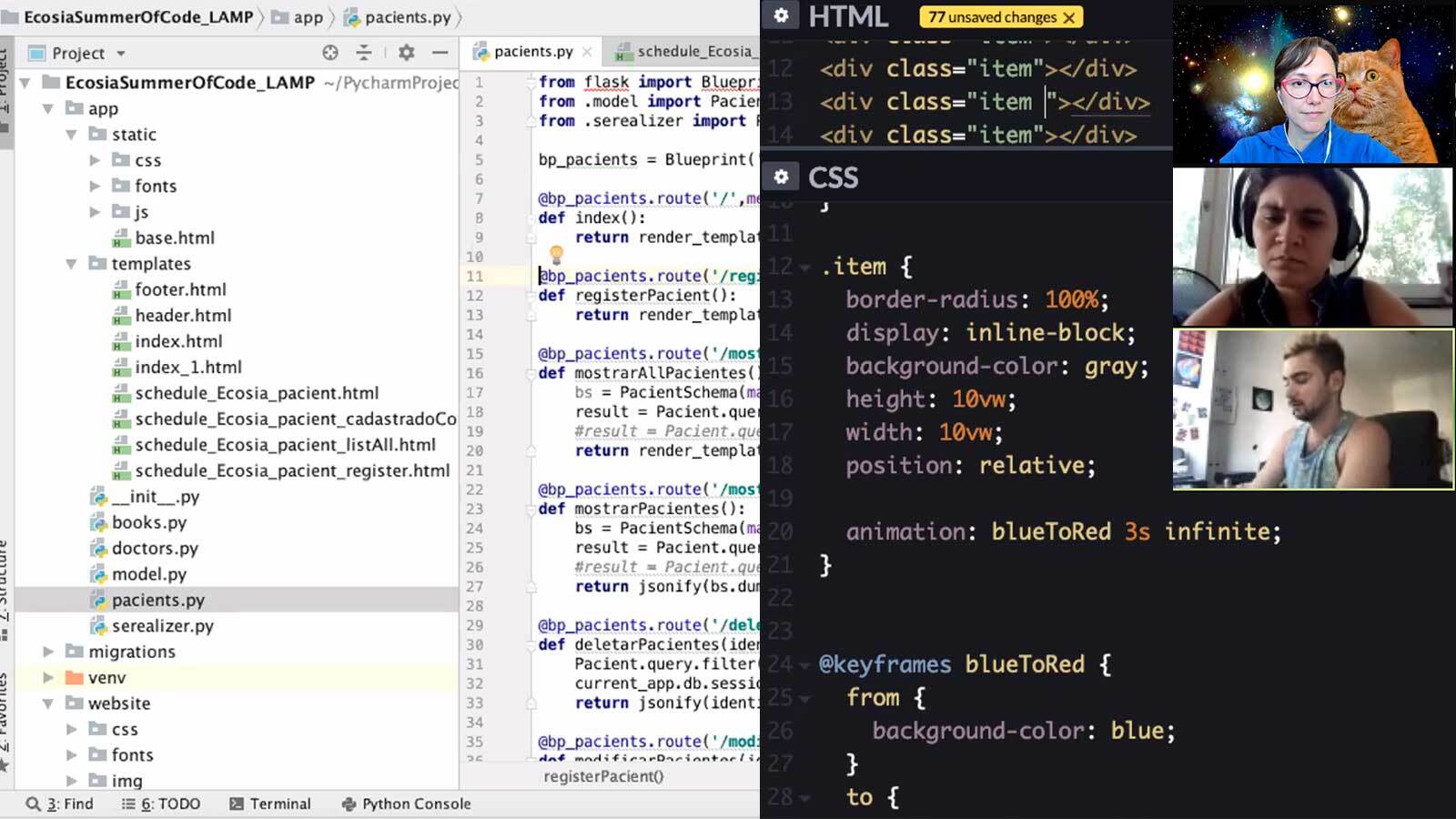 "I confess that after so many years away from the job market, I didn't even know how to get back. The Ecosia Summer of Code was a light at the end of the tunnel."
— Taciana
Paloma's a whole-hearted explorer who believes in the open source ethos. "I believe coding is a mighty way to reshape our present and future through the power of data." Combining her love for the web with her passion for base jumping, she is developing an interactive documentary about the history of base jumping in Brazil. "It is a platform where users contribute with their personal stories to tell and safeguard a collective story."
"The ECSoC program helped me to build the confidence to identify as a software engineer. Understanding the everyday life of a company has driven many fears away. Discovering what it's like to be a developer and learning new technical skills has strengthened my desire to follow this new path."
— Paloma
The program was not only beneficial for the participants. Ecosia's engineers who took part in the program had the opportunity to improve their mentoring skills and learn with (and from) the participants.
"I found it incredibly rewarding to see our mentees tackle complex challenges and discover new possibilities. I learned how to explain basic web concepts and much of my niche knowledge in a simpler, more approachable way, as well as how to understand and support the mentee in their goals."
— Jakub, Software Engineer at Ecosia
For myself it's also been extremely rewarding to support Paloma and Taciana and give back to the community that supported me. I hope we will continue offering this kind of opportunity to people who are passionate about technology. Slowly but surely, it's becoming part of Ecosia's company culture.
With the program having come to an end, both participants are looking forward to their next step. Taciana told us that "this update on my resume opens doors for me to get a junior position or internship".
"Thanks in part to the ESoC program I am about to have my first software engineer interview. This is the result of feeling empowered by our mentor and coaches, leveling up my skills and career path-specific support, such as cover letter reviews. I'm excited to start contributing towards making the Internet a fundamental part of a sustainable, diverse, creative and accessible revolution."
— Paloma
The whole Ecosia team wishes Taciana and Paloma much success with their careers and projects!