Update, Jul 28th 2020: We still believe Android users deserve the option to freely choose their search engine. However, due to the negative impacts of COVID-19 on our revenues, combined with no foreseeable regulation changes from the European Commission, we are left with no choice but to participate. We must protect our brand visibility and our ability to fund our tree planting projects.
---
For a long time, Google used its dominant market position to push its own search engine to Android users. In 2018, the EU fined Google € 4.34 billion for anti-competitive practices that disadvantaged other search engines. In other words, Google wasn't playing fair.
To comply with EU regulation, Google has to give Android users the freedom to choose their search engine. But the newly suggested method is unethical and anti-competitive. Google wants other search engines to participate in an auction, with only the highest bidders granted access to Android's new 'choice screen'. Google will then invoice and charge competitors for each user who selects a non-Google search option via the choice screen.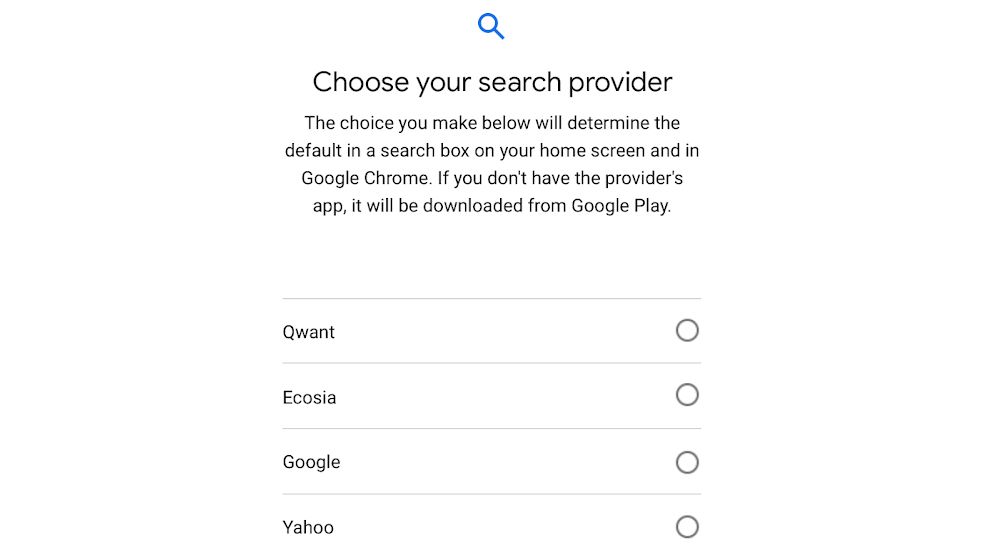 We're saying no
Ecosia will not be taking part in Google's revenue-making auction. We are calling on Google to cease damaging, monopolistic behavior. Android users deserve the option to freely choose their search engine, and that choice should not be auctioned off to the highest bidder. Google has chosen to give discrimination a different form and make everyone else but themselves pay, which isn't something we can accept.

We use our revenue to plant trees in areas affected by deforestation or desertification, not to get into expensive and unnecessary bidding wars with other search engines. We will be discussing our options with the EU Commission - it should be up to Android users which search engine they use, and absolutely not up to Google.
We have three main reasons why we won't be participating in Google's auction:
Fundamental rights should never be auctioned off
It is unethical for a company with a dominant market position like Google to discriminate access to it. Google's attempt to auction access rights to Android is an insult to the European Commission and to the principle of equality in front of the law.
Purpose-driven search engines will be crowded out by profit-hungry rivals
Alternative search engines that focus on privacy or specific causes are unlikely to be able to competitively bid in this suggested auction set-up. This setup favors profit-orientated partners, many of whom have access to higher monetizing Google ads.
Google is trying to create artificial scarcity
By artificially limiting user options, Google is creating scarcity where there is none. This will unnecessarily increase costs for alternative search engines, and will keep new entrants from growing market share.
For these reasons, we believe Google should not go ahead with the auction. Share this article if you agree!